---
Talking Story 09-08-05
July I started my new job/career as a naturalist guide at Hawaii Forest & Trails. I have been trained to take guests on two adventures: Kilauea Volcano Adventure at Volcano National Park and the Valley Waterfall Adventure to see Kapoloa Falls in the Pololu Valley. In the future, I will be trained to take guests to the summit of Mauna Kea for the Summit & Stars Adventure and to explore Hualalai on the Hualalai Mountain Adventure. Life is good!
I completed the final rock wall in the front of our house in July. Here are additional pictures of our yard. All that is left is some finishing touches on our hill and to plant a few more tropical plants.
---
---
Talking Story 06-05-05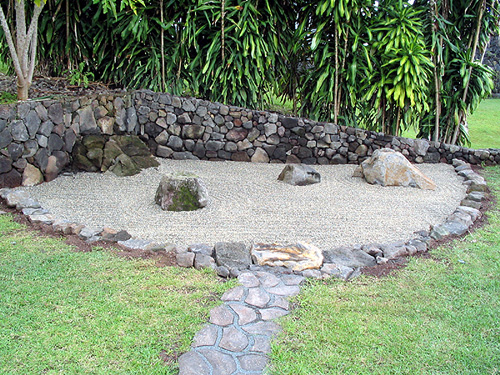 Zen Rock Garden
The Zen rock garden is complete! I would like to thank my Dad and neighbor Ron for helping me move the large rock into the garden, and Kip for allowing me to steal the rock from his property. It was difficult and expensive to find pea gravel on the island of Hawaii, but I did find it in 0.5 cu ft bags at Lowes. Now I need to construct a sand garden rake to rake the gravel into waves. If you have never seen a Zen Garden before here is a web photo gallery of Japanese Zen Gardens http://phototravels.net/kyoto/zen-gardens-index.html.
The lawn is finally becoming established! I seeded with centipede grass (AKA lazy man's grass), which is a slow growing grass from South China which does not tolerate frost. It is mostly planted in the southern states of the USA and Hawaii. Instead of growing vertical it grows horizontal with lots of runners. If things go well, I will only have to mow the lawn every three weeks... Anyway, below are some before and after photos of the yard.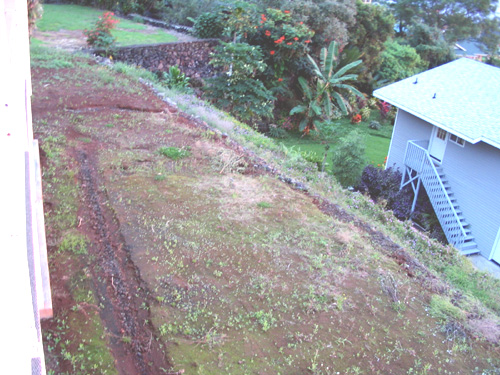 Before Back Yard 6/2/04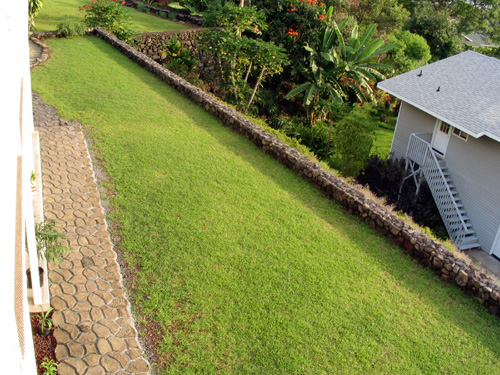 After Back Yard 6/4/05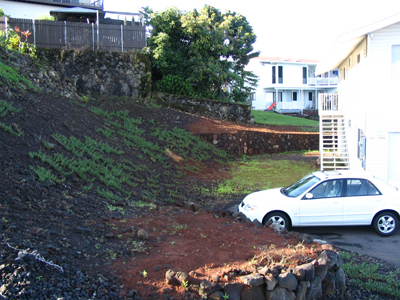 Before Front Yard 6/2/04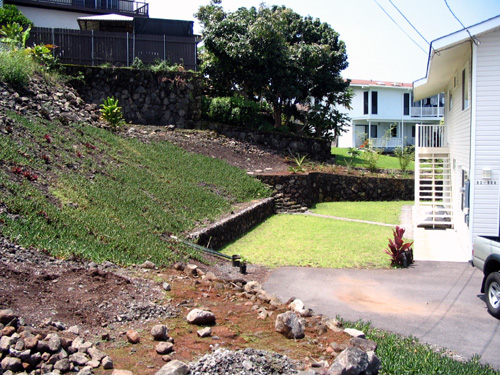 After Front Yard 6/4/05
I have one more section of wall to complete in the front of the home and I hope to be done with all of the hardscaping by the end of July.
I have been here in Hawaii for a year. So I've started my job search and hope to find either a science related career here or do something completely unrelated to science and technology. Time will tell what how my life will unfold...
Mary and I are still playing Taiko, and meditating at the Daifukuji Soto Zen Buddhist temple. I still teach Yoga at the local gyms and Mary will end her employment with the University of Hawaii on July 1st.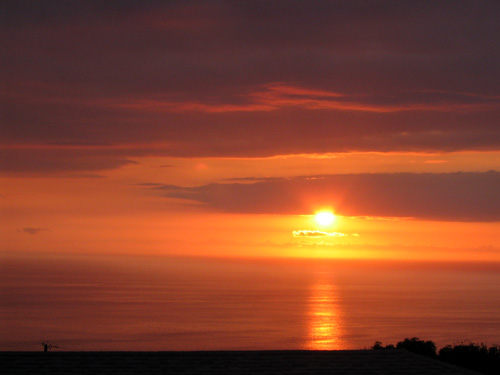 ---
Talking Story 11-24-04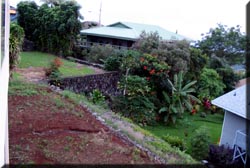 &nbsp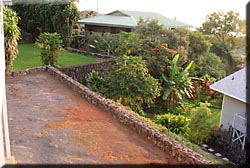 Before .......... After
Look how fast the papaya trees grew in about five months.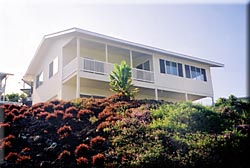 &nbsp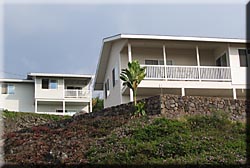 Before .......... After
Looking up towards the house.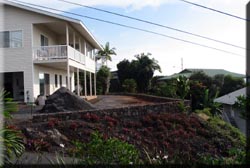 &nbsp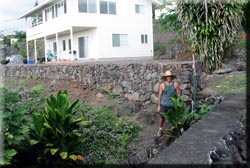 Full wall view .......... Tallest section
The wall is almost complete, we just need to cement the top rock section. Once again I like to acknowledged my neighbor Ron, for all the help he has given me. Without his careful guidance, skill and labor, I would have never attempted this project. For those who need to know the dimensions, the total length of the wall is 128 ft, at an average height of 3 ft. And yes all the rocks came from the our property or given to me by Ron. Next on the agenda is leveling the soil, irrigation, a cement path around the house, cement driveway extension and finally planting.
---
Talking Story 10-10-04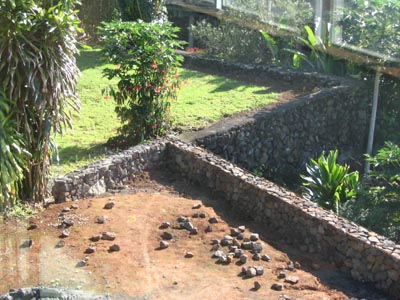 Finished the rear corner.
We finished the rear corner and laid the foundation of the whole wall this Sunday. I think the wall is more than half complete.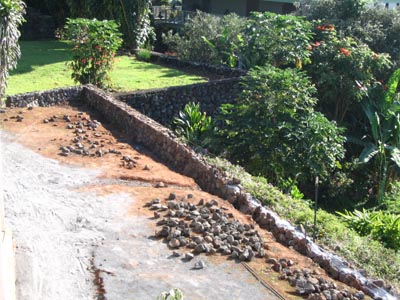 Foundation complete.
16 tons of sand and 15 cubic yards of soil delivered.
Last week we had a bunch of sand and soil delivered to the house. The sand will be used to make concrete for the wall and the remainder (the vast majority) will be spread over the clay soil. After we break up the soil with the sand we will mix in the organic soil (Mac nut shells and compost) and even out the yard. Lots of wheel-barreling in the future!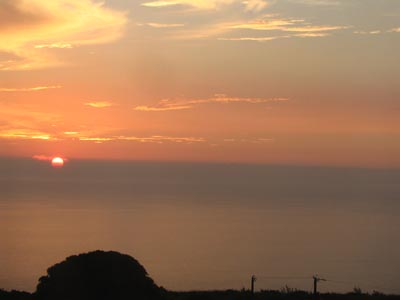 Today's sunset 10-10-04

---
Talking Story 10-03-04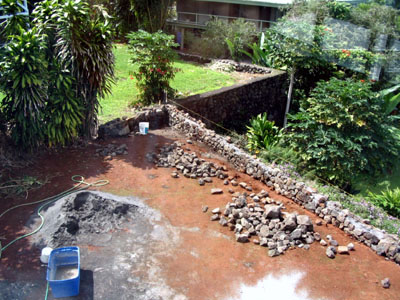 The start of a rock wall.
After a two month delay due to an accident I had with a table saw while installing laminate floors, I'm back to the home improvement schedule. As far as my left pointer finger, well it is a bit pointer than before, but it has healed well. Anyway, for the next few months, I will try to transform our patch of weeds to a manicured yard. I have been told, it is easy to grow things in Hawai'i. Hell, stick a broom stick in the dirt here and it will grow. However, to landscape and garden well is another story. I'm trying to create a tropical landscape but it can easily turn into a jungle if you are not careful. So far, I decided to try my luck on rock wall building. My neighbor Ron convinced me that it is not rocket surgery, or was that brain science... So far, with a lot of help from Ron, I discovered building a rock wall is like lego's without the snapping pieces, or painting by numbers without the numbers. The bottom line, it's hard work! It challenges your spacial abilities and my muscles are hurting from picking up all those rocks that don't fit. However, my shoulders are tan and the wall is coming along well so far. We started in the most difficult spot and the wall has reached a maximum height of approximately 7 feet. By the time we are finished it should be about 130 feet long and on average 3 - 4 feet high.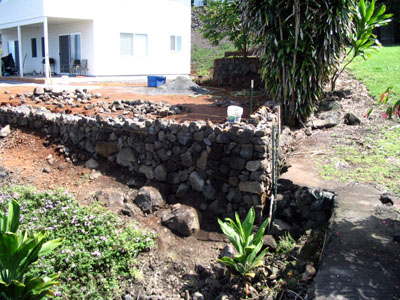 Corner of rock wall.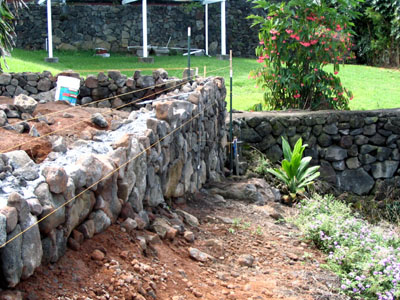 Another vantage point of the rock wall.
As you can see the foundation of the wall was dug and raked out, which was a lot of hard work with lots of blisters. The guide lines were put in place with the help of a water level (125 ft. hose with plastic tubes at either end, can we say huge manometer) so we can lay the stones and boulders in a strait level line. The rocks and boulders were found, dug or raked from the property mostly. Ron, conveniently added a few rocks from his yard to the project. In Hawai'i you can order 1 man rocks, Ron and I must have moved a couple of three man rocks or one samoan rock. Good thing for Marty, my neighbor below, we were able to place them on the foundation. Otherwise, Marty might have gained a few new lawn feature in his back yard. The only other tools needed was a cement mixer (Ron let me borrow his) and a good eye for placing the flat face of a rock on the outside of the wall. The wall is glued together with cement and re-bar, with some drainage pipes placed every 8 - 10 feet along the bottom of the wall.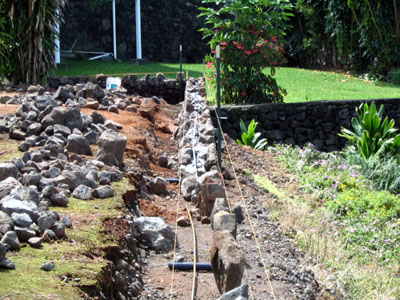 Guide lines, re-bar, cement, drain pipe, oh my....
I'm very grateful for the guidance and rock wall expertise my neighbor Ron has given to the project. There is no way that I would have been able to accomplish such a large project without his expertise. Thank you Ron!

---
Talking Story 6-17-04
2004 Toyota Tacoma 4x4 Regular Cab
After 15 days of negotiations, the local Toyota dealer and I came to an agreement on a price for a 2004 Toyota Tacoma, 4X4, 2.7L, 5 speed, regular cab pickup truck. I have received great advice from lots of people regarding buying a truck, and appreciate your input. I based my final decision on my needs living on an island (Note: the longest trip I can drive is 6 hours around the island and the fastest I can go is probably 55 mph but will average about 45 mph on most of the narrow, twisty, wet roads). The first choice I needed to make was crew, extra, or regular cab. Since we have a car that can fit four people, the real choices was extra vs. regular cab. I figured I would appreciate a shorter wheel base truck (smaller turning radius, fits in the garage and is lighter too) vs. the extra interior room of the extra cab. Considering I have only owned two or three seat vehicles my whole life (66 Chevy Truck, 84 Ford Ranger, 89 Honda CRX, and a 92 and 99 Mazda Miata), I wouldn't feel as if I were missing anything if I didn't have the extra room. Nobody could really comfortably fit back there, anyway. However, I might get a container to put in the bed. I decided on the four cylinder engine because I'm living on an island where there are no freeways and most people drive below the speed limit. Furthermore, gas is very expensive here so fuel economy is important to me. Toyota has a very good reputation for their 2.7L 4 cylinder engine which delivers 150 HP and I have a five speed which makes it easy to select a more appropriate gear if a hill becomes too difficult for the engine. Both Mary and I really like our new truck. There was only one color choice, lunar mist because this truck was the only one available on the Island when we were ready to buy. The trucks only come to Hawaii with 16" wheels, bench seating, and AC. It is very stock... No CD player, clock or intermittent wipers. However, it was cheap! So I figured I can live with these limitations.
I sort of came up with a basic plan for our landscaping, but I have not implemented anything yet. I'm trying to see if I can get a contractor to extend my driveway 200 ft.2 more first. This will give us a bit more room to fit additional cars (visitors) and allow us to maneuver cars to go up the steep hill to the main road. I also need to start learning how to build a rock wall to frame in the property. Finally, I will part with a photo of a sunset we took recently from our lanai. I just wish the builder put the utility lines underground...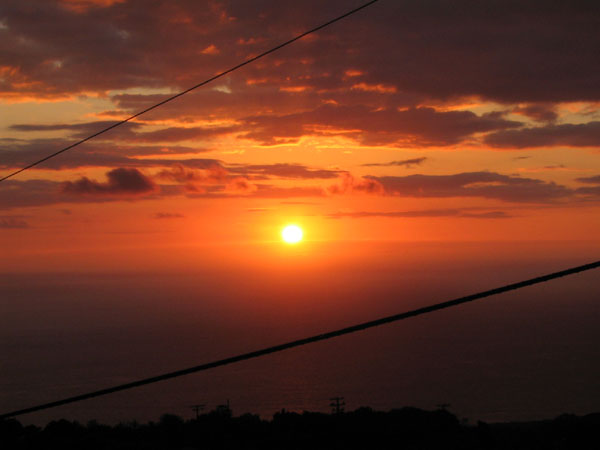 Sunset

---
Talking Story 6-09-04
I'm teaching yoga again... I went in to see what Gold's gym in Kailua-Kona offered and left with a yoga teaching position. The planets must have been aligned. Anyway, I will be teaching their 6 AM yoga classes on Mondays and Wednesdays. I also have a free membership with the gym so I can start working out again.

---
Talking Story 6-03-04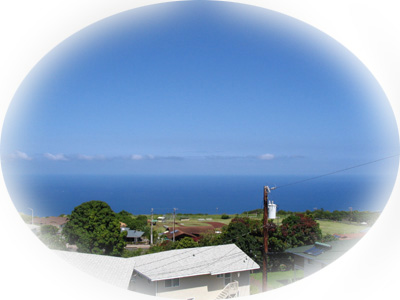 Good morning Hawaiian Style
I'm working on my third week on the Big Island (BI) and I have learned and experienced a lot! I have become more in tune with the natural rhythms of the environment, especially when it comes to my sleeping. I tend to go to sleep an hour or two after the sun sets and wake up at sunrise. Those that have visited Hawaii might know why I rise early, perhaps you are snickering as you read... Well all those beautiful bright and colorful birds like to start singing about 5:00 am and progressively get loader until about 5:30 am when they reach full volume. Add in a couple of roosters to the mix of exotic birds and you have all the reason to get up and start the day! Yep 5:30 am... I have accomplished a lot here before 9:00 am, like picking all the weeds from the lava rock on our property before it gets too hot!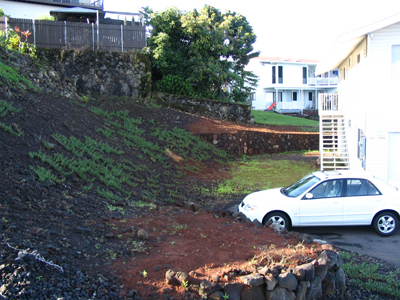 Lava rock hill
So now I just have ice plants holding the loose lava rock on the steep slope. I have not come up with a plan yet for the landscaping but it seems like I have an opportunity to terrace the hill a bit and perhaps plant some coffee. I do live in Kona. Forget Juan Valdez, I'll pick myself! Anyway, depending on the cost of building a rock wall and filling in the hill a bit, we may or may not do it. What do you think?
Mary has been suggesting we do not have a lawn and basically landscape with ground cover, rocks, and tropical plants. Sounds good to me, but I think we might need a little lawn on the west side of the house.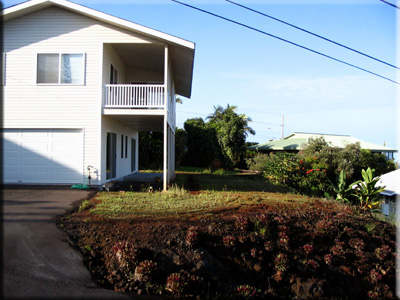 West side of house
Hopefully we will come to some type of agreement soon because the rain has been washing the red soil to our neighbors house, so we need to do something soon. I have learned that most of the tropical plants are propagated by snapping off a part of the plant and sticking it in the ground. For pineapples, you cut the top off the pineapple and stick it in the ground, and in a few months guess what? You have a pineapple growing from the crown you buried a few months back. Anyway, here is a picture of the back side of the home.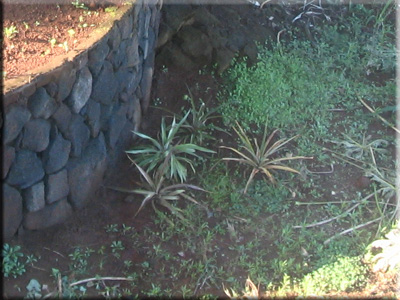 Yes, those are pineapples amongst the weeds by the rock wall
The cats, well... Banyan our youngest has found enough strength to emerge from the closet at night... However she goes back into the closet when the birds start singing and stays in there all day long. She has become very nocturnal. I think the new sounds are making her scared because when the sun goes down it gets very quite here. Chestnut seems to be doing very well in her new environment.

---
Talking Story 5-20-04
A big warm Aloha from Hawaii! Keith, Mary, Chestnut and Banyan arrived on Saturday evening after a 15 hour journey to their new home on 81-906 Kee-Kee Street, Kealakekua, Hawaii. The cats did relatively well despite the difficult flying conditions and lots of turbulence, especially between Honolulu and Kona. When we arrived at our new home, Chestnut our eldest cat jumped out of her kitty carrier and immediately explored her new territory. However, Banyan seemed to be shaken by the whole experience and is still hiding in the closet. Perhaps she will need a few more weeks to adjust to the new sounds and smells.
As for the humans.... they are doing well. It has been raining in paradise the last few days, but we have been enjoying the temperate weather, awesome sunsets, and views of the island of Maui on the horizon from our new home. Although Hawaii equates to vacation for most people, for us there is work and a lot of new home chores to do. So Keith will be busy for a bit of time painting, installing hardwood floors and garage door opener, and discovering how to landscape in the tropics. Mary has been busy in Hawaii since February managing a TRIO program at the University of Hawaii. She has been recently preparing for a senior celebration, and planning for next year's program.
Even though we just arrived, we already feel the spirit of the ʻāina (land in Hawaiian). It comes from the locals, the slow pace of life and the natural beauty. We've been changing too... from talking story with our neighbors, not locking our car or home, to learning to shake hands differently. There are challenges ahead of us and we'll have to change our mainland ways. What better place to do it, than Hawaii.
We hope all is well with you and Aloha from Hawaii!
P.S. For those wondering what OP Hale means... OP is our last name initials (Olson Park) or if you want Ocean Pacific and Hale means home in the Hawaiian Language.
Updated 11/24/04